We just finished our brand new, updated version of Mass Building Sins and it's yours to download free right now. This isn't your run of the mill, schlocky Word-doc-turned-PDF that you see all too often. Oh hell no. We made it pretty. Very pretty. Like Muhammad Ali pretty.
And it's packed with great muscle building info for skinny guys looking to get jacked.
But before you sign up for it let me briefly explain how I run my online business since a few people may be in the dark about this.
This is not my blog about my Star Wars action figure collection that is still in my mom's basement. (Though if you want to negotiate a price on that or my mint condition Iron Sheik, let me know)
This is a blog about my quarter century in the iron game. It's not only my passion, but my business. Aside from owning a gym and coaching it's one of the ways I put food on the table.
Like many of you who have a roof over your heads I don't work for free. If I won the lottery I would but right now I don't have that luxury. I'm obsessed with training, but at the end of the day my time is very limited and I need to eat and provide for my loved ones.
How it All Goes Down
For those who don't know here's how this whole making-money-on-the-internet thing works…
I write an article about a topic you may be interested in.
I get it out there to you through various avenues and if you like it maybe you'll buy something from me or join the Renegade Inner Circle. And maybe you won't.
It's no different than Pearl Jam coming out with a single for free on the radio with the hopes that you buy the new album, or supplement companies giving you out free samples at the Arnold Classic. It's basic business. Give someone a sample of your work and hope they were impressed enough to buy from you.
When bands go on tour the goal is to make you a life long fan who buys all of their albums. When any of us in the fitness industry do live seminars or workshops we all have the same goal. It's not the money at the event that matters.
My goal is to earn a living by helping as many people as possible. If it works I get to make money doing what I love. I understand that not everyone is going to like my stuff enough to whip out his credit card every time he reads one of my articles. I'm fine with that. But don't get it twisted; that is the goal.
I don't write simply to stroke my own ego or to serve the world. As much as I would like to be, sadly I am not the Mother Teresa of the fitness industry. There are many charities that need our philanthropy more than the hardgainers in your local gym.
Sure, I give out free advice all the time because I love the Iron Game so much. And since I struggled with many of the same things you guys are I genuinely want to help.
I understand how much it sucks to be a tiny, skinny-fat dude. But if I'm going to help people, knowing that I won't be able to earn a dime from it I'll be focusing more of my time on sick kids and victims of natural disasters more than those who need to add a couple inches to their guns.
The Value of Information
Some people don't understand your business when you sell information versus selling something that they can actually see and touch. It's expected to be given away for free, whereas the guy who works at Xerox isn't expected to give a copy machine to everyone he meets on the streets.
Often times marks will think they caught me in some type of undercover sting operation with major government implications if I post an affiliate link to a product I use and recommend.
That's an affiliate link, you scumbag! Gotcha!"
-The Self Appointed Internet Police
Aaahhh… of course it's an affiliate link, I got bills to pay and I'm working. This is what people do at work; try to make money. So you can put the handcuffs away.
Some of you may not even know what an affiliate link is so let me explain how I work this into my business plan.
When I discover a new training tool or supplement I try it out on myself and with some clients. If I like it I will contact the company and ask them if they have an affiliate program or can set me up with some type of special link so that when someone purchases through my recommendation I can make a few bucks.
I'm going to recommend it either way so why not get paid if I am exposing their product to half a million people per month?
It's the same thing every single pro athlete you can think of does. Sam Jackson is not asking Siri how to make gazpacho just because he loves his iPhone that damn much.
The Bottom Line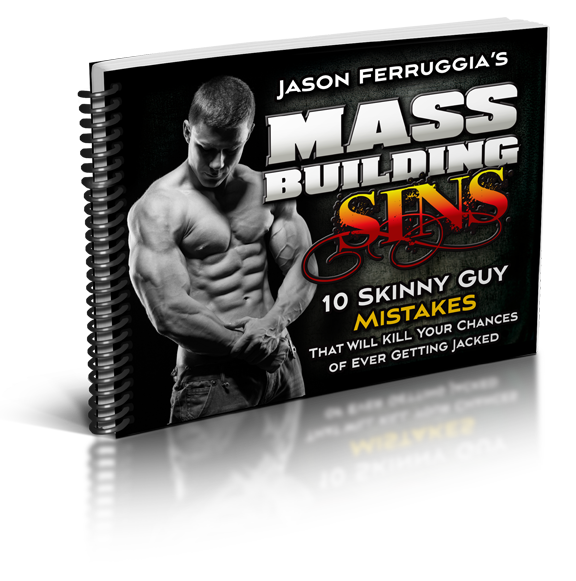 My point of all this is that I want you to know, before you sign up for Mass Building Sins, that at the end of the book there is a short little sales pitch. And I will email you too. Three to four times per month it will be nothing but training tips or links to good content.
I will also offer subscriber only discounts on stuff and let you know about a cool new product or gizmo or supplement or food or gym or whatever other fitness related stuff I think you might be interested in that I actually like and use myself. Some of the stuff I might get paid for, some I might not.
Some people get a little bitter because there are groups of marketers who incessantly promote each other's stuff and it gets very old. I will never do that.
But I just want everyone to be up to speed here on how this whole thing works. And if I email you more than six times per month (at the very most) I would expect you to shit bomb my front door like they did in Can't Buy Me Love.
Thanks for reading.
Now enter your email below to download your damn copy of Mass Building Sins already!
(Unless, of course, you're already a subscriber, in which case a copy has already been emailed to you)